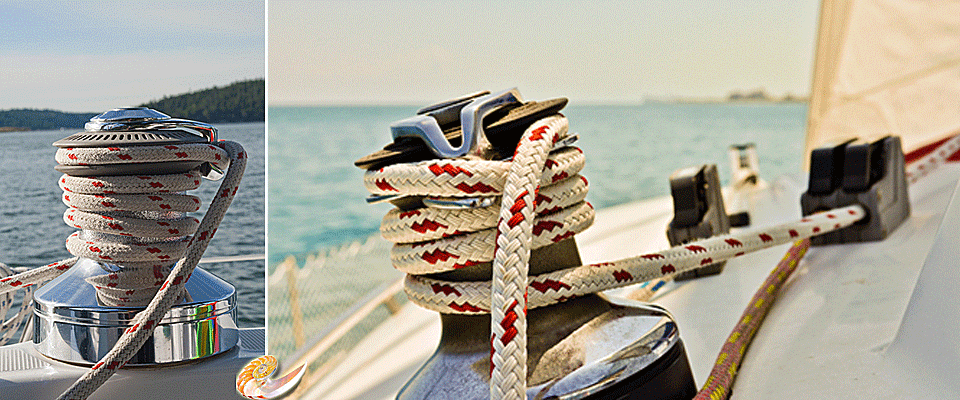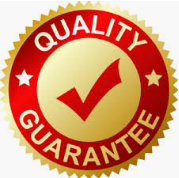 Guarantee
As a high-quality manufacturer of high-performance braids, Nautilus Braids knows that a great deal of its success is built upon customer satisfaction.
Our Products
Polyester Yachting Double Braid
Our Yachting Double Braid has both an inner core and outer cover made completely from High Tenacity Polyester. This is an extremely versatile rope which can be used for many applications e.g. halyards and sheets.
Yachting braid is available in diameters from 3mm to 25mm. It comes in white with a standard 3-flecks of a single colour or in a solid colour outer. Colour flecks available include white with black, red, blue, green, yellow, orange, pink, purple or grey. Solid colours available are white, black, red, blue, green, yellow, orange, pink, purple, silver grey, and dark grey.
We also offer custom made designs or colour ways e.g. orange with black fleck, black with yellow and blue fleck, etc. Just give us a call and we can discuss your specific requirements.
Ultra High Performance Double Braid PES XL (Excel) Range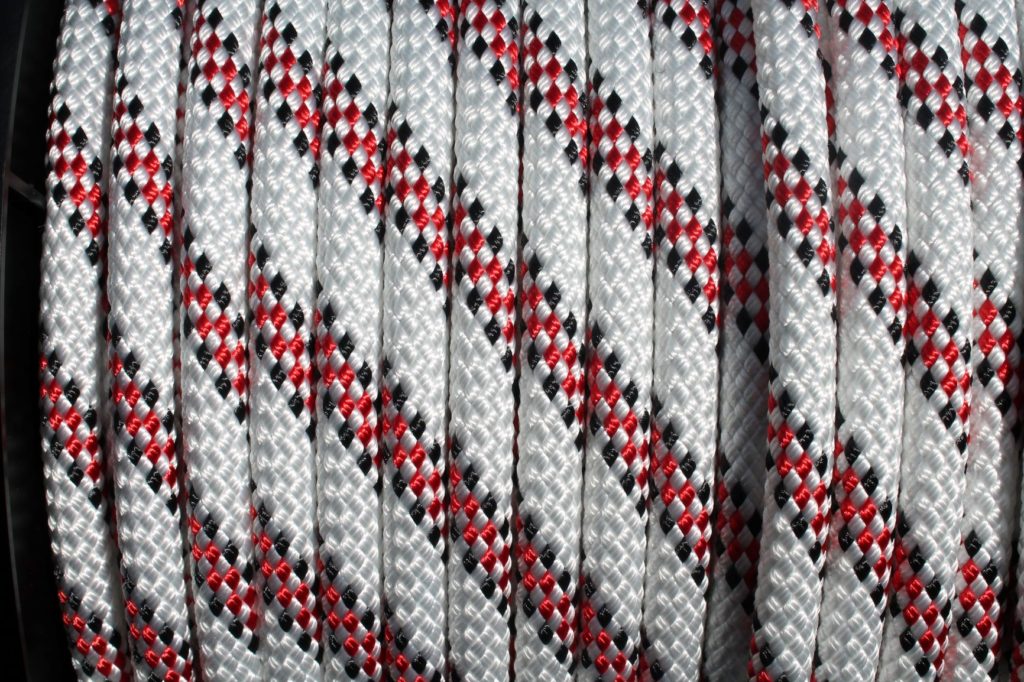 Nautilus has developed an Ultra High Performance Rope which is called our 'Excel Range'. The rope is made using a 36-carrier one-over-one construction. The outer is made using Polyester while the centre is made of either High Tenacity Polyester or UHMWPE (Ultra High Molecular Weight Polyethylene).
The unique property of this rope is the centre core which represents the strength of the rope and it is made using a much higher proportion of the the rope's total fibre. What this means is that in a 16-carrier rope, approx. 50% of the fibre is in the inner and 50% is in the outer. As the number of carriers is increased, this ratio changes. So in a 24-carrier rope approx. 60% is in the inner and 40% is in the outer. But when using a 36-carrier machine, this ratio increases such that the centre is 72% and the outer is 28%.
In simple terms, this means that with a 14mm finished rope, it will have the strength and centre of a 16mm rope. A 12mm rope will have the centre of a 14mm rope and so on. So this then increases the strength without effecting the diameter. To make up for the lower percentage of fibre in the outer, we have made the outer using finer yarns and twisted these much harder to give excellent durability.
The finished rope is more circular than a standard braid, which often can appear slightly oval. The centre can be made using Polyester or UHMWPE (Ultra High Molecular Weight Polyethylene).
Double Braid UHMWPE (Ultra High Molecular Weight Polyethylene)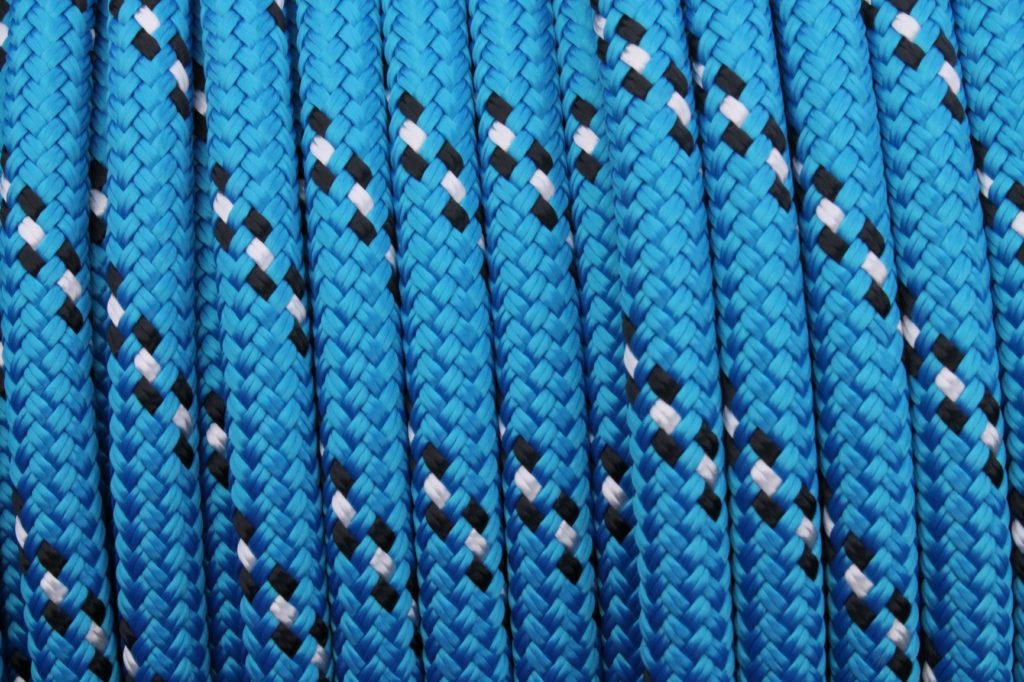 Our Double Braid Ultra High Molecular Weight Polyethylene rope is made using a Ultra High Molecular Weight Polyethylene fibre (UHMWPE) core and a High Tenacity Polyester outer.
This makes a very strong, light weight, no stretch rope – providing maximum strength with low stretch. Applications include halyards, sheets and control lines where durability and low stretch is important.
This braid is available in diameters from 3mm to 36mm and our standard colourway is a solid colour with a black/white/black fleck. The fleck denotes the Nautilus colour coding for a low stretch centre. On request, we can make a solid coloured cover with a UHMWPE centre.
Our breaking loads and strengths are available on request. Just give us a call.
Vectran Double Braid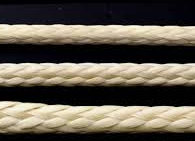 Our Double Braid Vectran ropes are made using a Vectran core for strength and a Polyester outer sheath for protection. This creates a very strong, no stretch, no creep rope.
Vectran is known for its exceptional strength and thermal stability at high temperatures. It is five times stronger than steel and ten times stronger than aluminium. It has a melt temperature of 625°F . The fibre is moisture-resistant and generally stable in hostile environments. It is susceptible to UV. Vectran is easily determined as it has a golden hue (as shown in the photograph top LH side).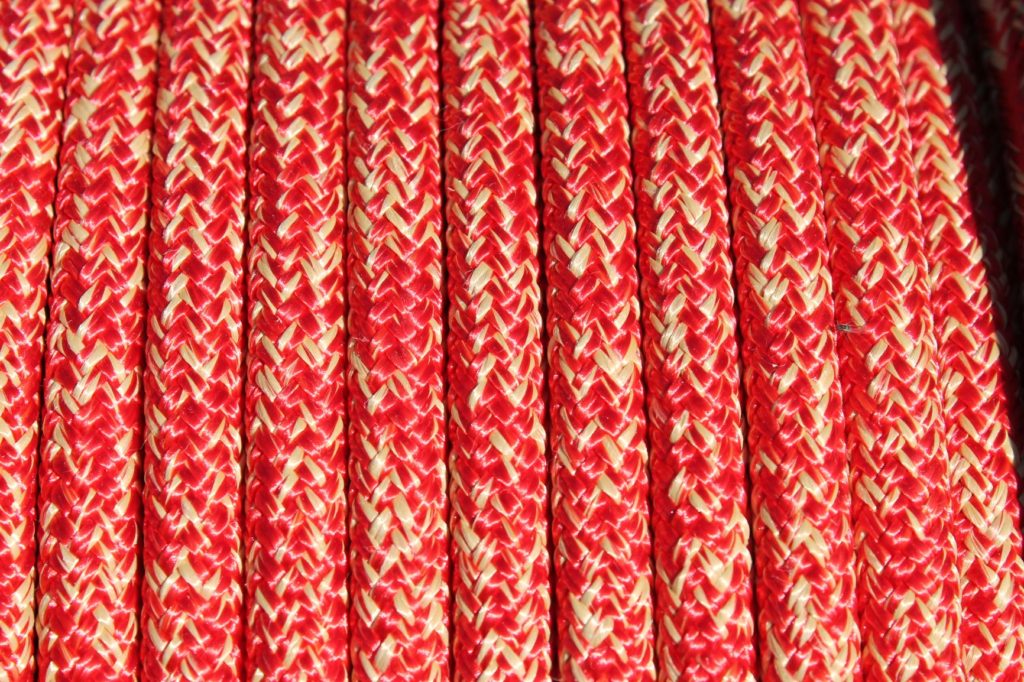 Nautilus uses a black-yellow-black fleck to denote the centre is made using Vectran. We can make the cover using a solid colour incorporating the black-yellow-black fleck e.g. blue with BYB fleck, red with BYB fleck, etc.
We also offer a Polyester/Vectran-blend outer cover which gives a mottled effect (see picture on Right) for use on winch drums when heat is generated as the rope is slipped. This means it is an ideal rope for use as a halyard.
Nylon Double Braid
Our selection of Double Braid Nylon ropes are made using a core of 100% Nylon Polyamide and a cover of 100% High Tenacity Polyester. This provides a rope with elastic properties suitable for tow lines, docking lines, anchor warps and the like.
Nylon is the strongest of all ropes in common use. It is used for absorbing shock loads, such as when lifting or towing because it has the ability to return to it's original length after being stretched. It also has good abrasion resistance and can last several times longer than natural fibres.
Nylon rope stretches around 15-28% at break, meaning at the high end it is almost double the stretch of a Polyester fibre. Nylon is a common rope material often used for mooring and anchoring boats because it stretches.
Nylon is sensitive to high temperatures and is resistant to UV light.
Our range of mooring lines have a Nylon centre to give stretch and a coloured Polyester cover. The lines are professionally spliced with loops, sized to meet your requirements. We can custom make to your requirements.
Recovering Halyards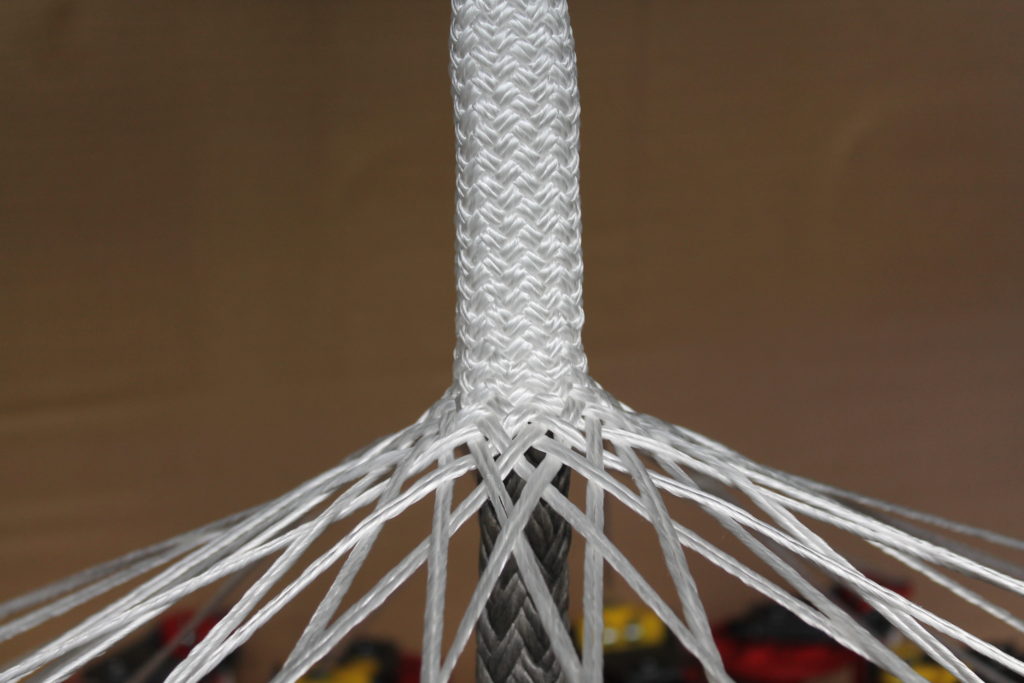 Nautilus specialises in recovering Ultra High Molecular Weight Polyethyelene (UHMWPE) fibre halyards for cruising and racing yachts when the outer cover has worn but the centres are still sound.
We remove the old polyester cover (or you can do this yourself and just send us the core) and then braid a new outer cover using 100% High Tenacity Polyester fibre to your individual colour requirement. This rejuvenates sheets and halyards back to their original condition.
We also manufacture chafe resistant braided covers made from Ultra High Molecular Weight Polyethylene (UHMWPE) in various diameters.
Just give us a call to discuss your size and length requirement.
Fishing Braids – Trawl & Cod End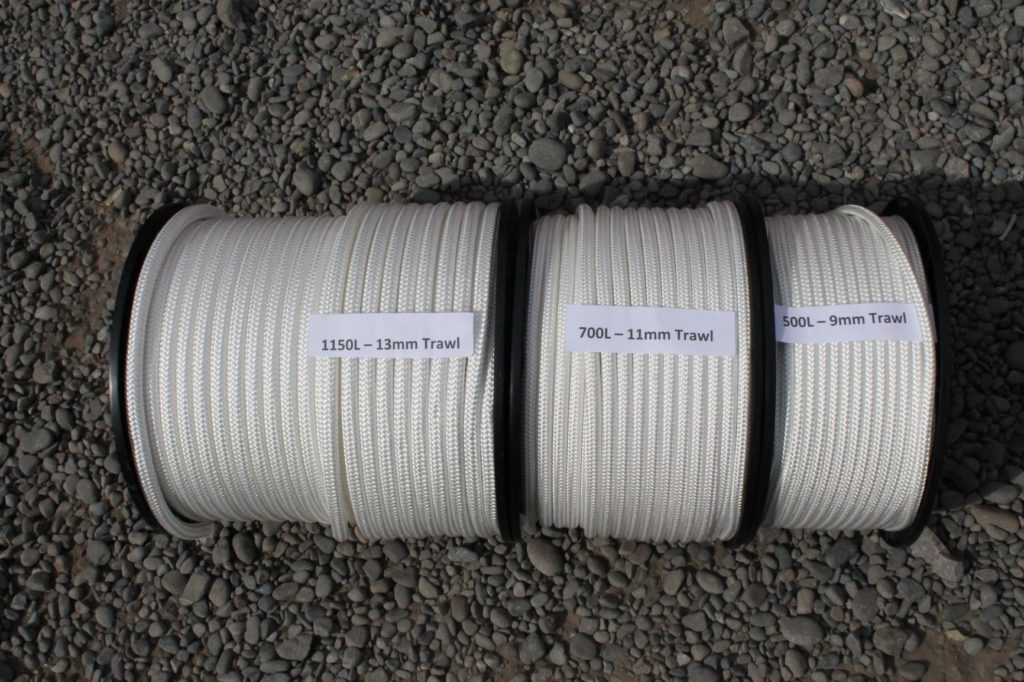 Our line of fishing braids includes trawl braid, netting braid and cod end braid. All are available in Nylon or Polyester.
Trawl braids are available in various sizes which include 6mm, 9mm (500L), 11mm (700L) and 13mm (1150L). All are made in plain white. Made 100% of Polyester, it is an ideal rope for use in commercial fishing applications.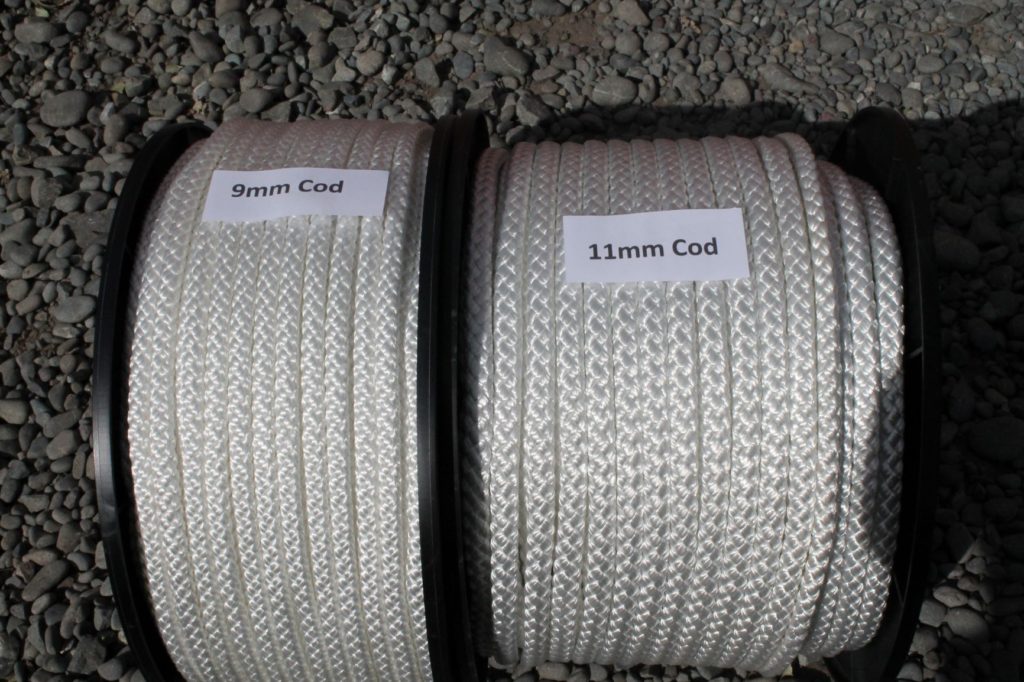 Cod end is also available and made 100% of white Polyester. Our standard diameters are 7mm and 9mm but we can custom make to the size required.
Both Trawl Braid and Cod End Braid are available in 100 metre lengths or we can supply in bulk. Just give us a call to discuss.
Stock Ropes – Horse Leads and Halters

At Nautilus, we know the importance of making good quality Horse Leads and Halters.
We specialise in manufacturing custom made Stock Ropes, using special recipes to create a soft durable product. All ropes are made using 100% High Tenacity Polyester to make a long lasting, strong and flexible rope.
Our most popular Horse Leads are made in 12mm, 13mm and 14mm diameters. The Halters come in a 7mm diameter. We can make other diameters on request. Standard lengths are 100 metres.
We also make a version of the Parelli Horse Leads – give us a call to discuss. For those who don't know – Parelli Natural Horsemanship is a program which uses behavioural psychology and teaches powerful horsemanship skills to help understand the individual nature of horses. Our lead ropes are specially made making them easy to hold and they glide smoothly through your hands when you need to give your horse more drift.
We offer solid colours such as black, red, brown, etc. but can work with you to create your own custom made colour design. Just give us a call to discuss. All our ropes are machine washable.
Winch Ropes
Nautilus braided winch ropes are made using Ultra High Molecular Weight Polyethylene fibre (UHMWPE) which makes a very strong, flexible and long lasting rope.
We coat the finished rope with polyurethane to make a strong, low stretch rope. Polyurethane shades include light shades of dark grey, blue, orange, silver/grey, blue/black, black, yellow, green, red or natural white.
Winch ropes are commonly used for winching, towing, industrial cable pulling, rigging, etc. and are a user friendly alternative to wire rope. The advantages in using a synthetic rope means it doesn't develop sharp burrs and doesn't store as much potential energy when under load.
Select Read More for more information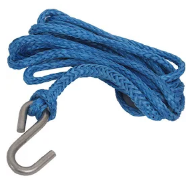 Shock Cord / Bungy
At Nautilus, we manufacture a durable range of high stretch Shock Cord – also known as Bungy Cord – using an inner core of multi-stranded rubber and covering this with 100% High Tenacity Polyester to provide protection against abrasion and UV exposure.
Our standard diameters range from 2mm to 10mm. Our standard colours include white with a blue fleck and solid black. However, we can also make colours to your specific requirement e.g. solid blue, red with white fleck, etc. Just give us a call to discuss.
Fine Braids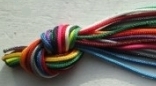 We manufacture a range of fine braids from finer than 2mm to 5mm. Polyester and nylon are popular. Fine UHMWPE (Ultra High Molecular Weight Polyethylene) single braid is often used for fishing line.
Special Braids
These are braids we have created for specific purposes. Please enquire if you have a requirement for a braid not listed and we will design and make it for you.
Our Tapered Sheets and Halyards are made to order – including size, length, and colour. Please contact us for the colour range.
Construction using UHMWPE, Vectran, Polyethylene, Polypropylene or Polyester as required.
High Performance
Most of Nautilus' ropes are made from high tenacity continuously spun multi-filament PE (polyester) or PA (Nylon) having a tenacity of around 8 gms per denier. Some special "high tech" ropes use UHMWPE or Vectran and "buoyant" ropes use PP (polypropylene because of its especially low density).
Colours
We carry a variety of yarn colours. These include white, black, red, yellow, blue, green, orange and purple.
Additional colours include fluro yellow, navy blue, dark grey, silver grey, fawn, teal and brown.
If you have a specific requirement or want a customised colour combination, call us to discuss.